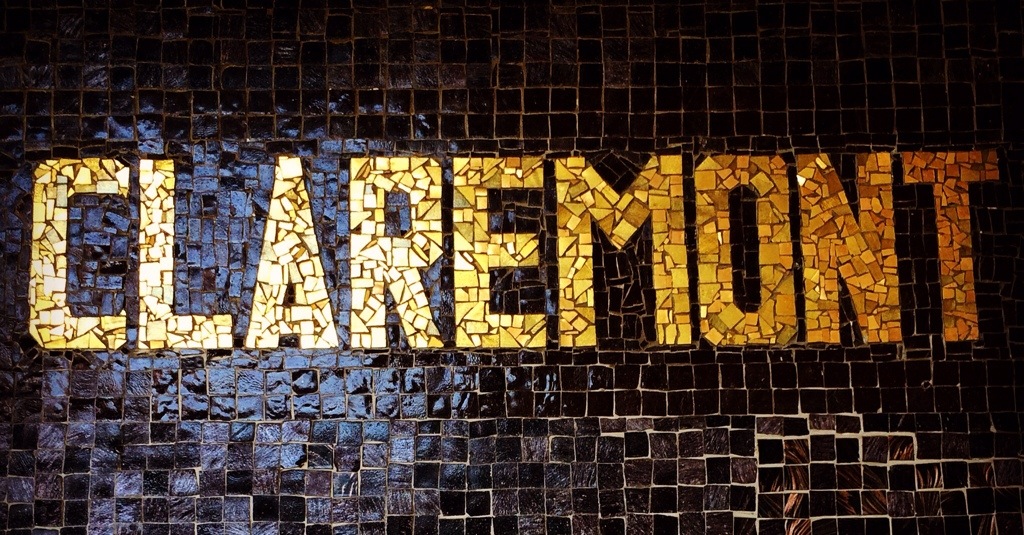 as i mentioned last week, a long weekend in claremont, california has convinced me of the smaller-town lifestyle.  while in town for a wedding, i explored the town (population: 35,000) 33 miles northeast of los angeles that feels more like a weekend retreat than a suburb of the second largest city in the US.  the more i travel, the more clearly i articulate my ideal city.  it is becoming in my mind something very close to claremont: a smaller town with education and culture (i'm realizing the smaller towns with performing arts, galleries, speaker series, etc. all surround college campuses), a thriving local economy (i.e. locally owned shops and businesses), and access to a city.  the only other town i have found that is close to this is san luis obispo in central california.
the locals refer to claremont as the town full of trees and PhDs, and it's easy to sese why: trees line and cover the streets of claremont, instantly tranporting you as you exit the 10 freeway from the craziness of LA into the laid back lifestyle of this college town.  the claremont colleges are located here, adding youth and culture that is evident in the many festivals, performing arts, and speaker series that occur throughout the year.
in the middle of town, just east of the colleges, is the claremont village (see map below), which is nine square blocks filled with eclectic shops, locally-owned restaurants, and the most adorable city hall you've ever seen (a group of friends was eating a picnic on the grounds when we walked by…is this real life?).  my favorite stores included vintage odyssey, where i purchased my usual vintage travel photos, and barbara cheatley's gift shop, where i could have spent the entire day browsing through their unique gifts (as it was, i settled on a copy of fitzgerald's on booze).
on the southeastern edge of the village sits the packing house, a large, open, former citrus packing house filled with a dozen or so stores and restaurants inside.  i loved its locally owned bookstore, claremont forum bookstore and gallery, where i bought a travel photography coffee table book from the 60s, which i ogled over later that evening.  packing house wines is located next door, and offers a large selection of wines by the glass or bottle with live music.
we didn't have time to eat many meals in claremont, but the two we did enjoy were fantastic.  dr. grubbs is a quick and casual restaurant in claremont village and has large portions of freshly made, flavorful, and healthy foods. i had the grilled pesto chicken over couscous for something like $11.  the next day i tried the mediterranean food a few blocks south at saca's.  both restaurants were casual (ordered at the counter), yet delicious.
who should go: angelenos who need a break from the LA grind (you can even take the metrolink directly to claremont village!)
nearby cities: visit claremont as a day trip while visiting los angeles, or stop by after a trip to palm springs (claremont is located just west of ontario, where the closest major airport to palm springs is located)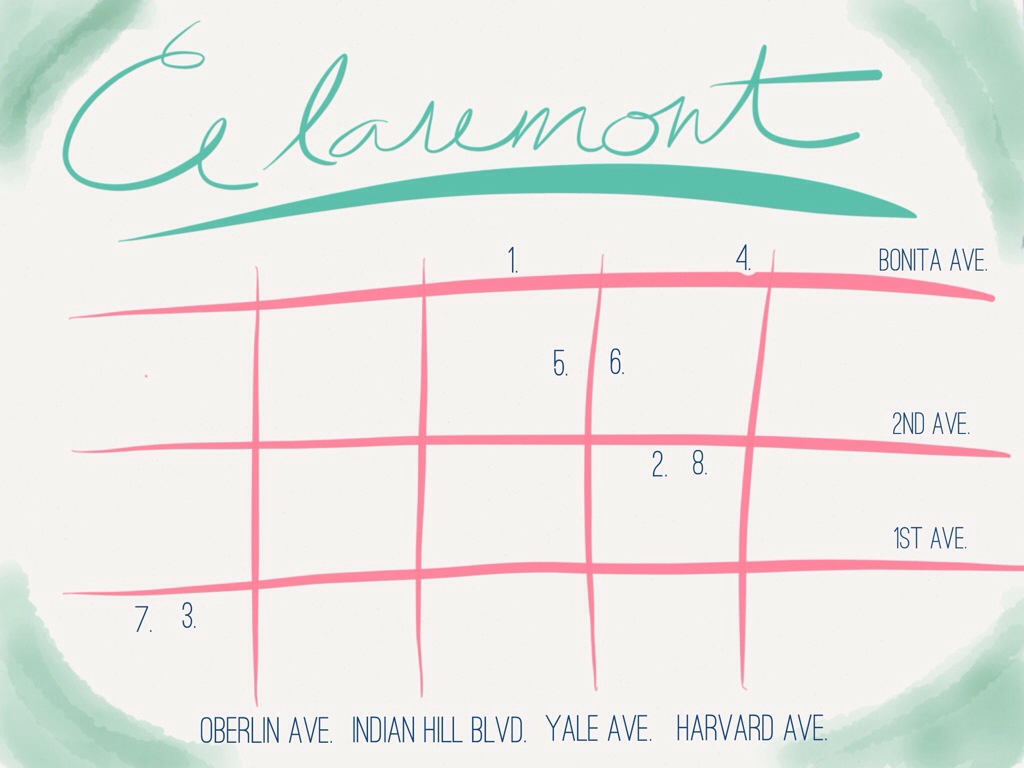 1. dr. grubbs, 353 west bonita  2. saca's mediterannean cuisine, 248 west 2nd  3. packing house wine merchants, 540 west 1st  4. vintage odyssey, 201 west bonita  5. barbara cheatley antiques, 215 yale avenue  6. folk music cent, 220 yale avenue  7. the claremont forum bookshop and gallery, 586 west 1st  8. cloud nine paperie, 216 west 2nd