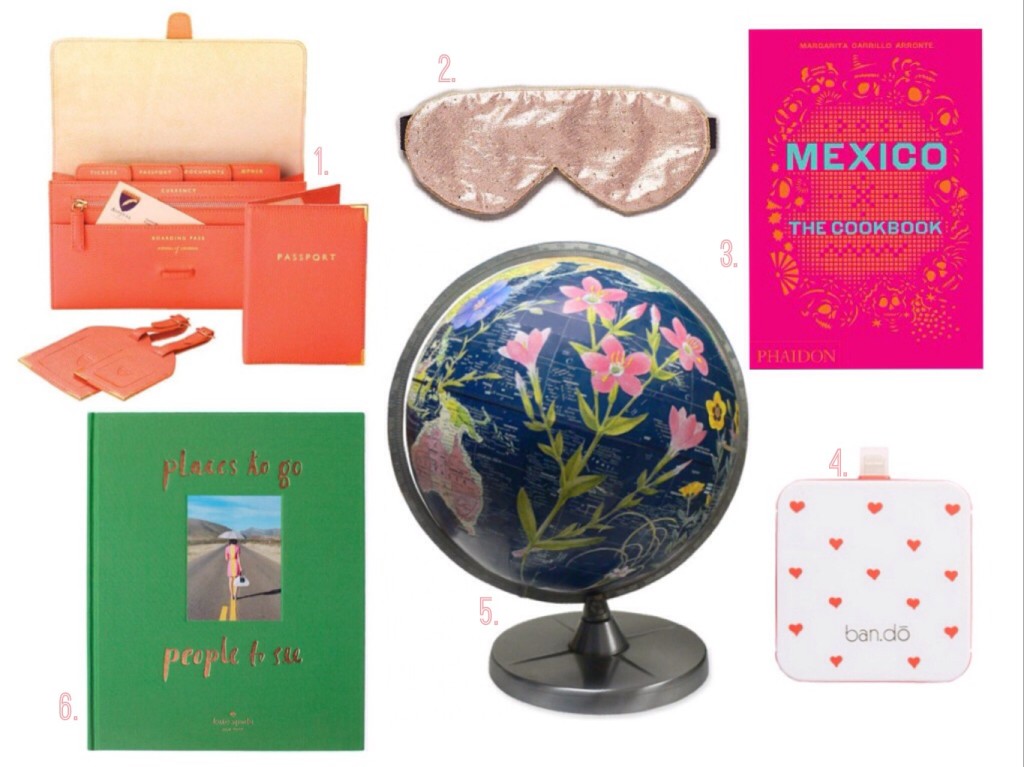 1. leather travel collection from aspinal of london, from $325  2. rose gold eye mask, $38  3. mexico: the cookbook, phaidon, $49.95  4. ban.do iphone 5 charger, $30  5. imaginenations flower power globe, $450  6. kate spade's places to go, people to see, $40
aaaaaand i'm back!  with more travel-themed valentine's day gifts, this time for the ladies in your life (click here for monday's gift guide for the guys).  go the route of jewelry and flowers if you must, but wouldn't it be so much fun to give a sense of adventure instead? a few travel necessities caught my eye, including the luxurious leather travel set from aspinal of london (*swoon*), the rose gold eye mask from anthropologie (this is a must for red-eye flights, as i've mentioned before here), and the heart-covered ban.do phone charger for when you're out on the go (if you hate hearts, there is also an adorable pink and gold version here).
to inspire you for more adventure, i highly recommend kate spade's "places to go, people to see" and phaidon's "mexico: the cookbook." i received "places to go, people to see" for christmas, and cannot put it down – it has everything from city guides to the best hotel cocktails to what to buy locally in cities around the globe.  plus, the photography is amazing (i keep fighting the urge to rip out pages and frame them).  my mother-in-law received "mexico: the cookbook" from my sister-in-law after her recent jaunt to san miquel de allende, and holy tamale, this book is amazing.  filled with pages of recipes and photos of the most amazing food you ever did see, this book has me wanting to hop on a plane and head south asap.
finally, i couldn't resist including another imaginenations product.  wendy gold is so talented and i want every single thing on her website, including this stunning painted globe.  she personalizes both globes and maps (including push-pin maps to track your travels), and i can't think of a better way to get inspired for future adventures.
what are some of your favorite travel-related gifts?