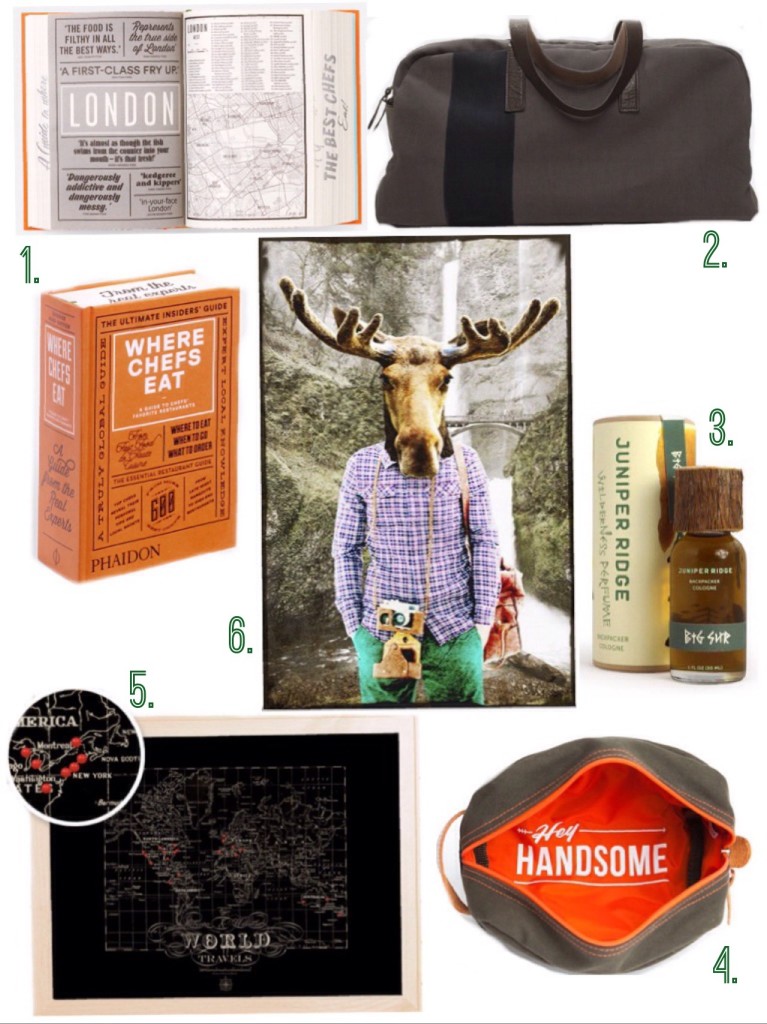 1. where chefs eat, phaidon, $24.95  2. the everlane twill weekender, $95  3. big sur backpacker's cologne by juniper ridge, $60  4. owen & fred hey handsome shaving kit bag, $68  5. imaginenations personalized world travels push pin map, $145  6. f-8 club member photo print by gi artlab, $84.99
whether you love it or hate it, valentine's day is back.  i love valentine's, and always have, even though i was rarely with a date when the day rolled around each year.  to celebrate this year, i've compiled two travel-themed gift guides for your loved ones, whether they be significant others, friends, or family.  first up: the guys.
i keep seeing the book, where chefs eat, all over the internet, and would love to flip through it.  it chronicles the best restaurants around the world, as chosen by chefs.  yes, please!  for the adventurers out there, i love these teensy "backpacking colognes" from juniper ridge that are   made from trail scents and will tuck away into tiny spaces.  if the big sur scent is anything like big sur itself, i am in.  throw in the quirky moose tourist print from gi artlab, and i'm already dreaming of hiking through the pacific northwest. of course most men could use an update to their travel gear, and the everlane weekender and owen & fred dopp kit will do just that (and if you haven't checked out everlane yet, please do so – they are making great products responsibly).  finally, the wall travel map is from my favorite, imaginenations, which sells stunning maps and artistic globes (and delightful note cards that i received for christmas).  track past and future travels on pins, and start dreaming of faraway lands.
do you have any favorite travel-related gifts?  stay tuned for wednesday's post for my favorite gifts for the girls.