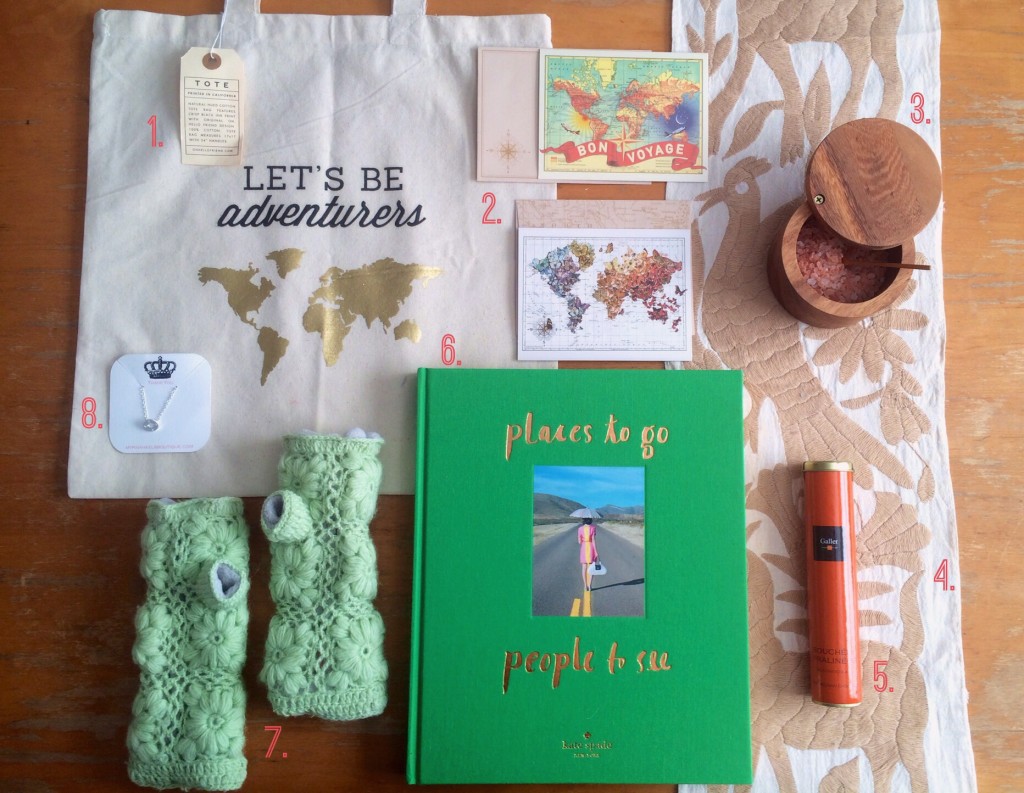 a couple weeks late, but happy new year!  the holidays are always a whirlwind for me with travel and catching up with out of town friends; it can be busy, but it's by far my favorite time of year.  this year, i found everyone talking about their travels a bit more – is it because i usually have travel on the brain, or are people starting to value more the time spent exploring and make it a priority?  i hope the latter, but can't quite be sure.  i was lucky enough to hear friends' and family's stories from their recent trips to belgium, mexico, germany, new york, peru, argentina, france, and india.  what fun!
the gifts i received this year reflected the jetsetter spirit, and made them so fun to open!  from handmaid linens from mexico to kate spade's new travel picture book (please just go buy it – it is perfect), it seems that new sights and adventures were on everyone's minds.  take a look, and let me know your favorite gifts from the holidays.
cheers to you and yours, and happy new year!
1. let's be adventurers tote bag  2. maps of the imagination notecards  (also, please check out more of this artist's phenomenal work here)  3. salt cellar and pink himalayan salt from the filling station at chelsea market from my bestie's recent trip to nyc  4. handmaid table runner from mexico from my sister-in-law's recent trip to san miguel de allende  5. belgian chocolates from galler chocolatier, courtesy of my friend, laura's, recent adventures in belgium (yes, she lives there now)  6. kate spade's places to go, people to see book  7. hand crocheted hand warmers from nepal, found in the paris christmas market by my dear friends  8. silver compass necklace