as the weather in dallas is finally starting to warm up (though i have a sneaky suspicion that mother nature has one more freeze for us…), my thoughts have turned to hotter locales and sun, sun, sun.  so, arizona.  while living in los angeles with family in texas, i had made the drive between the two states too many times to count.  my initial thoughts of arizona were based on my jaunt through the southern part of the state on i-10: hot, dry, and flat.  what a surprise when one winter we decided to take the northern route home via i-40.  snow and mountains in arizona?  say what?!
my husband instantly fell in love with this area through our cross country trips home, so we decided to stop and stay for a few days in the summer.  we started in flagstaff, a college town in northern arizona with a mountain hippie vibe.  for a great cup of joe or a cocktail to take off the chill in winter, head to rendezvous or the monte vista cocktail lounge.  they are both housed inside the monte vista hotel, known to be haunted.  our friends stayed here a few years back and can attest to the creepy sounds throughout the hotel.  brave enough to stay?  i was not.  while in flagstaff, walk through the adorable downtown – so quaint, and feels miles away from phoenix – much more of a boulder, colorado vibe.
next, we headed south on 89a.  per my trusted rand mcnalley atlas (probably one of my top ten favorite books of all time), this is one of the prettiest and most scenic drives in america.  after driving a few disappointing miles, we turned at a bend in the road and immediately came up against a breathtaking tree-lined canyon stretching high above us and far below the street.  this road definitely delivers!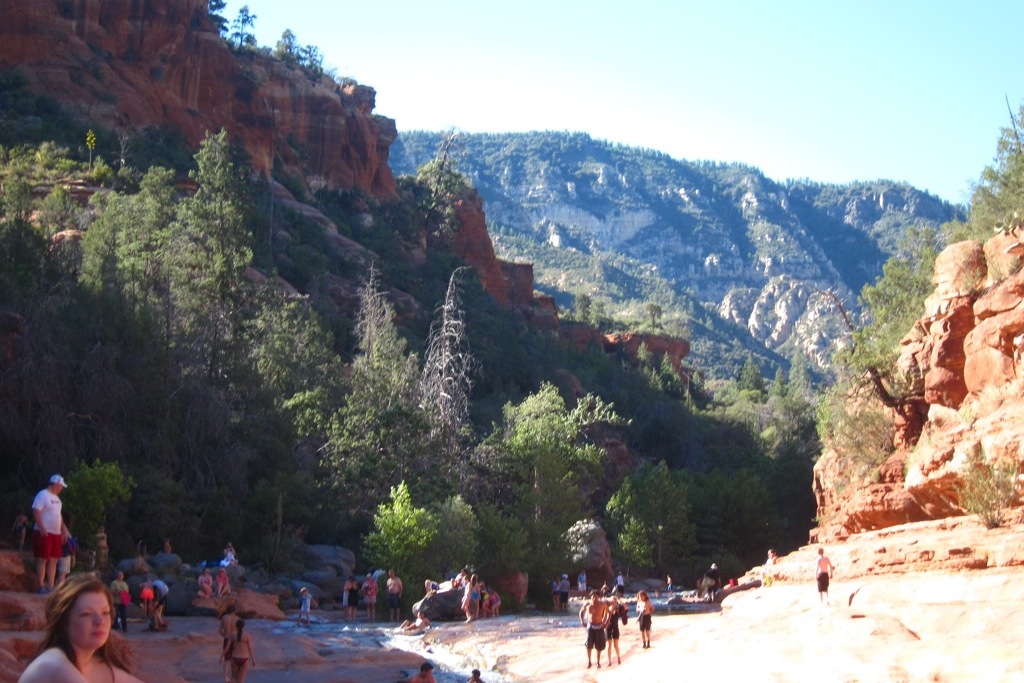 my aunt went to northern arizona university in flagstaff, and recommended that we stop at slide rock state park, home of "nature's water slide."  if you enjoy state parks and a good water slide, then this place is for you.  a word of caution: the water is really, really cold.  and once you're in, there's no getting out!  i had barely plopped down at the top of the "slide," yelped out my shock at the ice water, and was immediately pushed down the slide over the eroded rocks and into the shallow pool below.  before i could express my shock to my husband, it happened all over again!
after sunning ourselves on the canyon rocks, we headed further south to sedona, made famous by its amazing red rocks and new age mentality.  we enjoyed a fabulous meal at elote, which is not to be missed, despite the seemingly meager exterior – seriously fantastic food; expect a wait.  we shopped at tlaquepaque (check out environmental realists – strange name, extremely unique goods – i was hooked), hiked the trail around the airport (don't forget to pack plenty of water;  it's so dry here that you don't really how much you are sweating, and you risk dehydration), and enjoyed the cool night by the creek at our hotel, the l'auberge de sedona.  two words on l'auberge: outdoor shower.  it's worth the upgrade.
as a final farewell to sedona, we took a suggestion from 36 hours and called larry at earth wisom jeep tours.  where to start with larry?  first, let's mention that i am no hippie.  i like blazers and bows and kate spade and confetti.  larry likes singing to the wind.  but my trust in 36 hours is getting out of control, so i hopped in the back of his jeep, trekked up a mountain, and found myself singing while he played his peace pipe.  so what?  this city girl can find herself in nature every now and then.  while not normally my thing, larry's lesson on living well with nature was one of my favorite parts of the trip.  when in sedona…
who should go: people in search of a relaxing weekend, hippies
what to listen to: bob dylan
what to bring: hiking gear for the numerous trails and mountain chic style for dinners at night
surrounding area: drive even further south to jerome, an old copper mining town known as the "wickedest town in the west."  eat at the haunted hamburger, check out live music at the spirit room, and visit the gift store at the connor hotel.