i recently returned from a two-week trip to south africa (patience, grasshopper, for the full details), and what a fantastic travel experience that was.  five days in cape town were followed by six days spent safariing, with a few days of travel on either end (turns out it takes a really, really long time to get to south africa from dallas…somewhere in the middle we spent 12 hours in london.).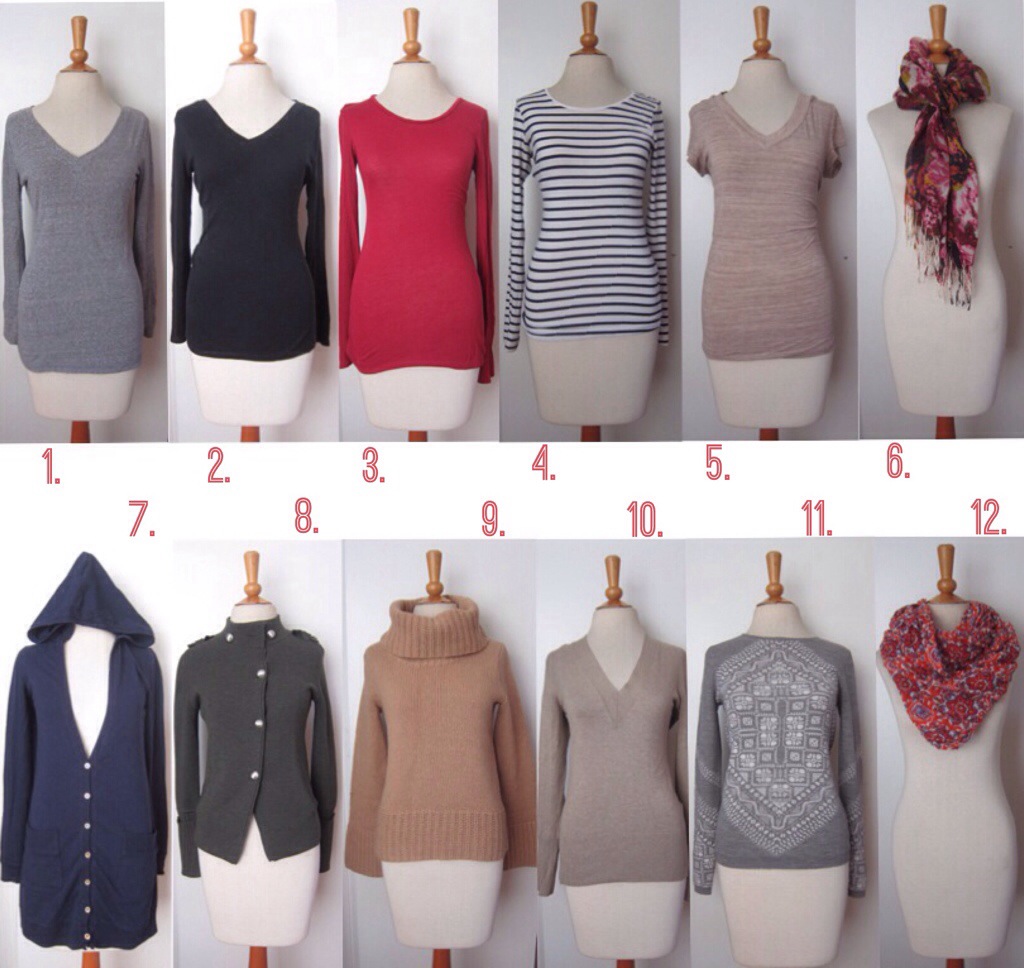 when talking to our travel agent, she nonchalantly mentioned that we should pack light, and "oh by the way, don't pack your rollies!"  excuse me?  "roller bags."  oh.  in other words, good luck packing for two weeks with winter clothes (yes, winter in the southern hemisphere between june and august) in one duffel bag (apparently, certain safari lodges prefer the duffels for ease of transfer…not sure it would have made a difference, as we saw plenty of rollies while on safari).  i could have packed two duffel bags, but after lufthansa lost my bag on our honeymoon in 100-degree athens, my carry-ons have been getting a lot more love.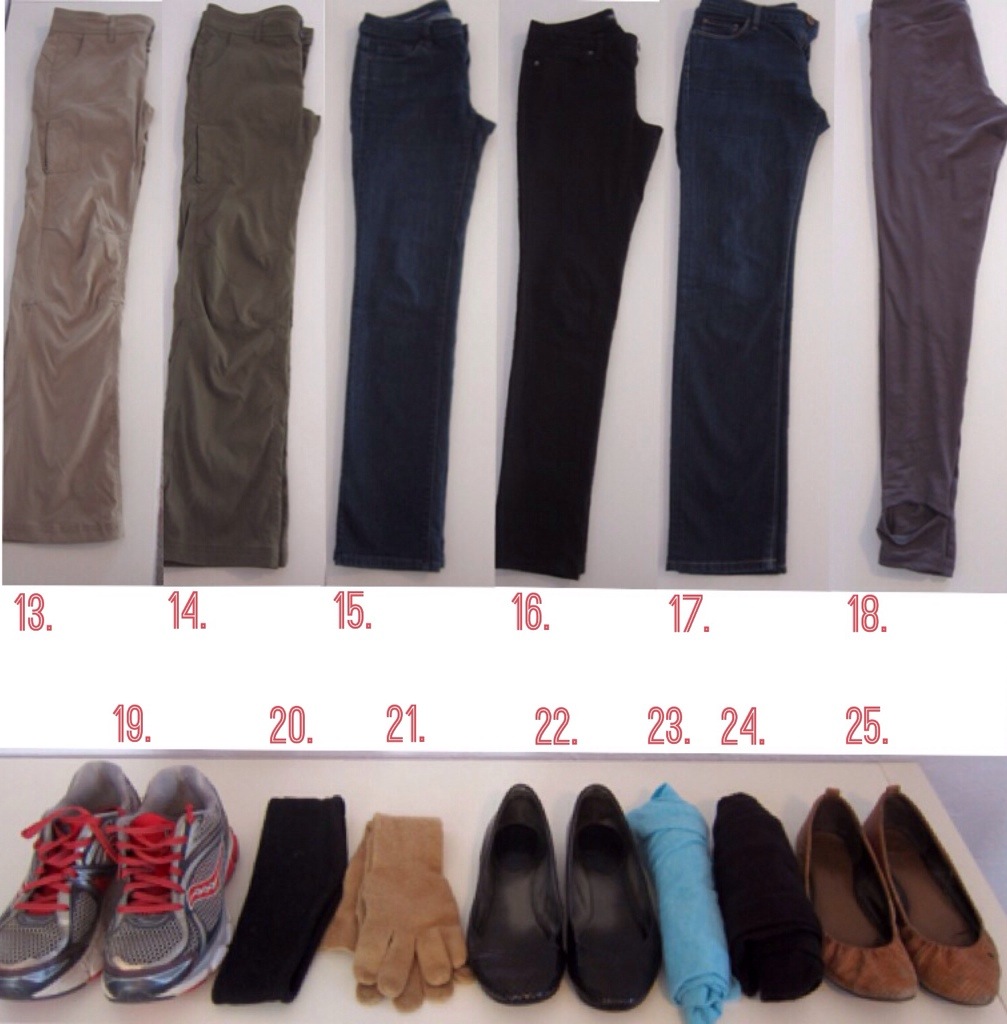 so, where to begin with packing?  i'm not going to lie: it seemed daunting, even for me, a self-proclaimed packing guru.  especially since being more of a city girl, i had zero "active/camping" clothes for these so-called bush drives.  turns out, it was much easier than expected.  the clothes i packed (with the exception of one safari shirt that i decided was useles) are all shown above.  let's start with what you'll need for six days of safari (12 safari drives, two per day):
2-3 pairs of light weight safari pants (#13 and #14).  i bought two pairs of pranna pants, and they were my favorite purchase for the trip.  they were light enough for the warm days, rolled up into capri pants for the hot afternoons, and were warm enough for the cool evenings.  they were also quick to dry in case i needed to wash them, and were very small when rolled up for packing.
1 pair of leggings or long underwear (#24, rolled).  if you go in the winter like i did (note: this is the best time to go in south africa because it is easier to see the animals), the weather can get extremely cold when the sun goes down.  we started our drives before sunrise, and i appreciated that extra layer (sometimes the temperature was in the mid- to low 30s when we started the drives!).  you may not need this if traveling in the summer months, or if traveling to safaris in warmer locations.
5-6 t-shirts (long or short sleeves) (#1 – #5) – rather than buying shirts specifically made for safaris, i brought my standard target/h&m long sleeved shirts that i would wear at home.  i made sure the colors were neutral (so you don't scare the animals away), and found these to be perfect for the drives.  i regretted buying a  more expensive safari-specific shirt that i will probably never wear again.  i also packed one short sleeved shirt, which proved useful on one warm afternoon.
2 pairs of jeans/slacks (#15 and #16) – i brought one pair of dark skinny jeans and one pair of black pants to wear during the day (between drives) and in the evenings for dinner.  this was plenty as no one dresses up much for meals, even at the more luxurious lodges.
2 colorful scarves (#6 and #12) – i bought two at target right before i left, and they became my go-to accessories for the entire trip!  perfect for the evening meals and added a much-needed pop of color to my otherwise neutral outfits.
1 pair of comfortable tennis shoes (#19) – you do not need to buy a new pair of walking shoes for your safari as you will be doing very little walking (if you exit the vehicle, a lion may eat you).  i brought a pair of running shoes, which was just fine and didn't require me to spend any additional money.  they also kept my feet warm in the cold mornings.
1 pair of nice flats (#25) – to wear during the day and in the evenings
1 hat or fleece headband, gloves, & scarf (#20 and #21) – as mentioned above, it gets extremely cold when the sun goes down, so you will want something to keep you warm,  this only applies to the winter months in countries that get an actual winter (e.g., june – august in south africa).
3 sweaters (#9, #10, and #11)- for layering with the long sleeved shirts on especially cold days, and also for wearing around the lodge.
minimal jewelry – i wore a simple gold bracelet, watch, and earrings (that i purchased  in cape town) on safari, and that was plenty.  i also did not bring my engagement ring, but just wore my band for the extent of the trip.
1 jacket (see photo above) – this will be your most important purchase, because you want something versatile enough to move around in, but warm enough for cold drives.  i chose a north face zip up in heathered grey, which was perfect and didn't require a scarf due to the high neck.  other guests wore fitted puffy jackets that seemed to do the trick just as well.
since we explored cape town for five days prior to the safari, i also needed city clothes. in addition to the clothes i mentioned above, i brought the following:
2 additional sweaters for layering over the shirts during the day (#7 and #8)
1 additional pair of jeans (#7)
1 additional short-sleeved shirt for the travel days (worn with the north face jacket) (not separately pictured, see photo above)
1 additional pair of leggings for the travel days (#18)
1 additional pair of comfortable flats for exploring the city (#22)
2 pairs of chandelier earrings to dress up outfits at night (not pictured)
with the cooler weather, you can re-wear each shirt twice (or wash it, if you so desire).  all of this – safari and city gear – fit into one carry-on sized duffel bag – stay tuned for next week's post on how to roll these clothes into the duffel – with photos!  to make it all work, i wore my largest items (running shoes and north face jacket) on the travel days, and packed my travel sized toiletries in my tote bag that fit under my seat.
do you have any suggestions for packing light on an urban/safari mix vacation?